Foundation Stage
Foundation Stage is where we prepare children for entry to King's School Reception class. We develop the knowledge, skills and confidence that will enable them to make a smooth transition to the next stage of their life at King's.
Here in the Foundation Stage, we aim to provide a high-quality education for children aged 3 to 5 years. We do this through a safe and secure yet challenging environment both indoors and out, in line with the seven areas of learning and development.  These are underpinned by the principles of the EYFS.  The seven areas of learning are:
Personal, Social and Emotional Development
Communication and Language
Physical Development
Literacy
Mathematics
Understanding the World
Expressive Arts and Design
Minimum attendance for Foundation Stage 1 is 2 full days, moving to Foundation Stage 2 the September after their 3rd birthday with a minimum session requirement of 3 full days.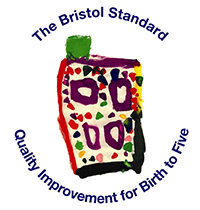 In July 2015, we were awarded the coveted Bristol Standard Award for Quality and Effectiveness of Early Years Foundation Stage (EYFS) provision.